Download our free clinical research reports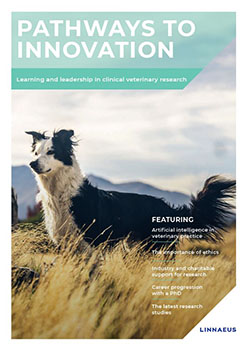 Our insight reports explore the latest trends within clinical veterinary research. We have brought together experts from across the profession – including contributors from the Royal College of Veterinary Surgeons, the Waltham Petcare Science Institute and Nottingham Trent University.
The reports also feature leading studies from primary care and referral clinicians across the UK, covering a variety of conditions we see in practice.
Our research approach
The Linnaeus Clinical Research and Excellence Director and the Clinical Research Associate coordinate and support the clinical research activities of Linnaeus veterinary surgeons and veterinary nurses.
This also includes assistance with study design, ethical approval, statistical analysis, manuscript preparation and publication, grant application and internal funding.
We support the publication of our research findings in open access peer-reviewed journals, enabling papers to be accessed freely and helping make A BETTER WORLD FOR PETS.
Research training
Clinical research training is provided by mentoring, formal teaching and other tailored resources accessible to all Linnaeus Associates.
The Clinical Research team has developed a Clinical research skills course for Linnaeus interns and residents with lectures and active learning sessions throughout the year. Our residents also have the opportunity to attend a course on statistics led by experienced biostatisticians at the Waltham Petcare Science Institute. All Linnaeus Associates can access the recordings of these lectures.
In addition, the Clinical Research and Excellence Director leads, fosters and facilitates research collaborations with Academic institutions in the UK and abroad as well as with the Mars Petcare ecosystem which comprises eminent scientists in numerous areas including genetics, metabolomics and artificial intelligence.
Research-led and evidence-based
Linnaeus clinical research activities support a research-led and evidence-based culture for the provision of veterinary services.
Research projects include fruitful collaborations between primary care and referrals within the group, generating large sets of valuable data and supporting our commitment to the effective translation of research evidence into clinical practice.
Veterinary surgeons and nurses involved in clinical research review and critically appraise the scientific literature (often both in veterinary and human medicine) on the topic of interest, deepening their knowledge and helping them provide the highest standard of care to their patients.
Assessed and published
Being at the forefront of scientific advancements in veterinary medicine enables Linnaeus clinicians to offer safe and innovative treatments, accurate prognostic indicators alongside appropriate disease-prevention strategies to their patients.
Linnaeus clinical research outputs are assessed every year by the Mars Research Review Board, providing excellent feedback.
Since 2019, Linnaeus has produced 850 clinical research studies, including 332 manuscripts published in scientific veterinary journals.